19 Understand this, my dear brothers and sisters: You must all be quick to listen, slow to speak, and slow to get angry. 20 Human anger does not produce the righteousness God desires. – James 1:19-20
Recently Pastor Carl Lentz was on The View and his response to a question caused a stir in the Christian world. I do not watch The View but as I listened to the scenario being described to me by a concerned Christian, I responded: "He will make a retraction soon. Don't worry."
I've since watched the clip in question and I thought I'd share some things we could all keep in mind in addressing the hot-button issues of our day.
On November 7, 2017 at 9:43 a.m., the retraction came.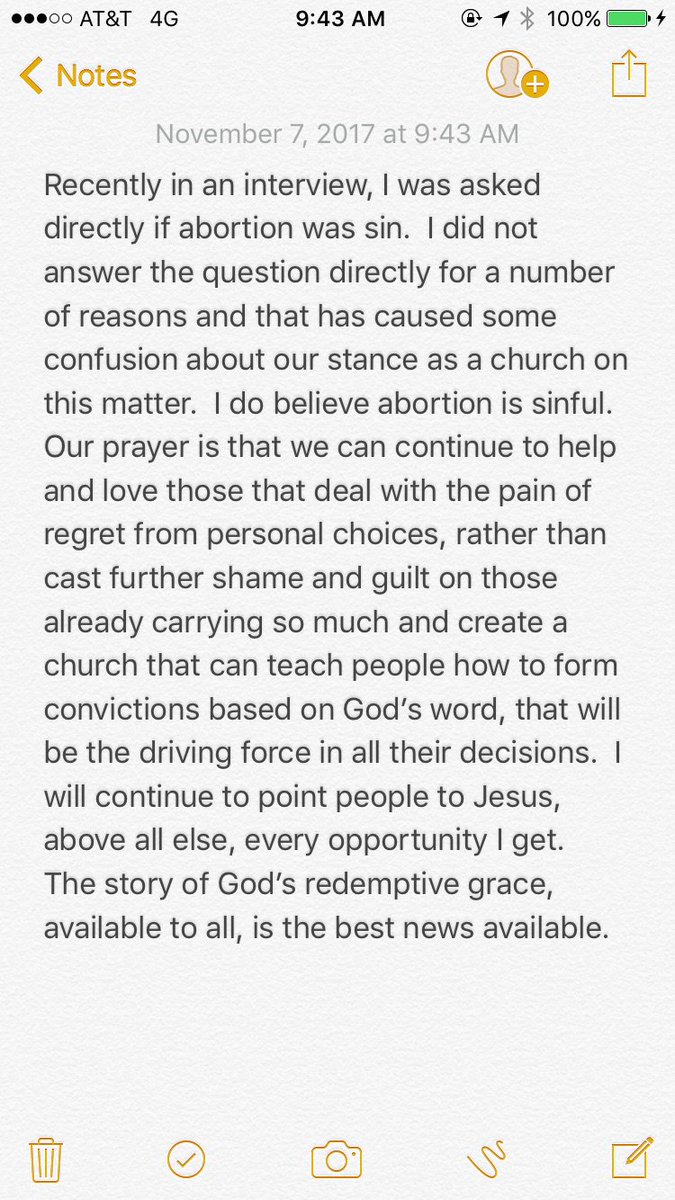 Platform:
Pastor Lentz has been given a great platform, but it wasn't simply handed to him. The Lord has genuinely been using him for a number of years. God has done and continues to do a significant work through the broken vessel that is Carl Lentz. Carl is, by the way, no more or less broken of a vessel than the one named Tally Wilgis or (insert your name here). Carl has always had a magnetic personality and been received as a gifted communicator. In his youth he was a great athlete who played basketball for N.C. State. God used him to draw young people to Christ for several years at Wave Church in Virginia Beach, VA and from there he would ultimately help launch Hillsong Church NYC.
God called Carl out of a lifestyle where he was entrenched in pop culture and sports. God then strategically positioned him to take the gospel back into that very same type of world. The media wants to focus on Carl's relationships with celebrities and athletes but it's precisely because he doesn't fanboy over celebrities that they are comfortable enough to invite him into their lives. He sees celebrities as people, not prizes.
God has given Pastor Carl Lentz a very unique platform and many people, secular and saint alike, are drawn to his ministry.
The View:
Watching the video above, you will notice that Carl was taken back by the first 'real' question from the host. After some uncomfortable banter about his appearance and tattoos, Carl is asked about Hillsong's position on social issues like gay marriage and abortion. Specifically, he's asked how he addresses those types of things.
Carl's View:
Carl expresses the positive side of the gospel. He focuses on his impression is that the church community tends to put up a wall that says "If you disagree, you are disconnected."
What you're hearing from Carl are two things. First, we (he and the public) likely disagree on how we view gay marriage and abortion. Second, he wants people to make it close enough to hear all about the goodness of God in Jesus before they allow the disagreements to become a distraction. Genuinely, I believe Pastor Carl's heart for evangelism is so strong that the public rebuke he received is part of the price he pays to be on the platform. Everyone I know who has been on a platform has been misunderstood.
Joy Behar hears an opening in Carl's response and goes in for clarity. She asks "So it's not a sin in your church to have an abortion?"
This direct question on national television mixed with Carl's evangelist heart causes him to trip up. He goes back to a place of 'conversation'. He's obviously trying to walk the very fine tightrope of being a 'friend to sinners' while also staying true to what he knows is the truth of the scripture.
On the follow-up question, Joy asks "So it's not an open and shut case with you?" Carl replies "Some people would say it is." He then talks about going "higher" and getting to understand a person's life, story, perspective and even something as simple as their name before he is known to them as a person who condemns them as a sinner.
God's View:
The reason that Christians on social media erupted in frustration and the reason The Babylon Bee ran satire about the interview is that the bible is actually fairly clear on human life.
Genesis 1:26, 27; 5:1, 2, and 9:6. Humanity is made in the image of God. We are unique because we are image bearers.
Psalm 139:13-14 God 'knits' us together in the womb. He is our creator, designer, and sustainer.
Job 3:16 The preborn/stillborn/miscarried children are referred to as "infants who never see the daylight."
For an evangelical, the taking of preborn life is clearly understood to be sin. In the evangelical Christian community, 'Is abortion a sin?' would be answered with the same level of indecision as the question "Is water wet?".
My View:
Pastor Carl Lentz made a mistake while teaching the rest of the Church a few lessons.
He's right. We too often allow our divisions to become distractions.
He's right. We need to know people as well as we know our positions.
He's right. We need to have conversations before shouting about our convictions.
Where Pastor Carl Lentz is still growing is that he's in an arena that most of us will never see. We should be careful to criticize. In this case, I believe that Carl is still learning how to handle the platform. Frankly, when hit hard on an issue meant to divide, he answered in a way he hoped would not shut down his witness to the woman seeking an abortion.
I appreciate his clarification. The body of Christ needs to know that one of our most visible brothers stands on the truth of the scripture and is presenting a true witness. Over time, I believe Pastor Carl will lead the way in giving language that bridges conversation and conviction.
Your View:
What is your view?
Do you view your own sin with as much contempt as you view the sin of another?
Do you view your lost neighbor as a friend or foe?
Do you view the brokenness of others as an opportunity to pounce or pray?
Let me leave you with this:
33 For John the Baptist didn't spend his time eating bread or drinking wine, and you say, 'He's possessed by a demon.' 34 The Son of Man, on the other hand, feasts and drinks, and you say, 'He's a glutton and a drunkard, and a friend of tax collectors and other sinners!' 35 But wisdom is shown to be right by the lives of those who follow it." – Luke 7:33-35